Sulfur Plant Fungicide (90W)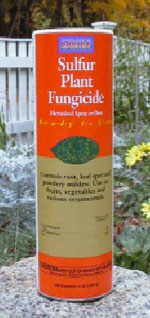 Description
A natural fungicide designed for pre-blossom control of rust, leaf spot and powdery mildew on fruits, vegetables, and ornamentals. Use as a spray or dust.
General usage
Use on fruit trees (pre-blossom application), berries, roses, ornamental trees and shrubs, perennials, and vegetables.
Directions for use
Follow manufacturer's recommendations.
Advisories
Even organic and natural products can be harmful if used incorrectly. For more information about the toxicology of any product, see the excellent Extoxnet database.

Application rates
Rates vary; follow manufacturer's recommendations.
Sulfur Plant Fungicide (90W)