Seacure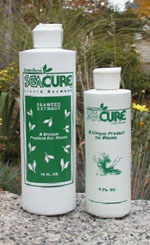 Description
A liquid seaweed concentrate made from Ascophyllum nodosom seaweed extract, rich in trace elements and natural growth hormones from the sea.
How it works
Regular applications of seaweed stimulate plant growth, strengthen cell walls and increase the plant's natural resistances to disease and insect attack.
General usage
Research has discovered that use of seaweed increases production and quality of all types of crops.
Directions for use
Applications range from 2 to 4 gallons per acre per year.