Pro-Tekt Silicon Solution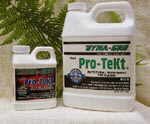 Description
A concentrated liquid supplement that supplies higher levels of potassium and silicon to build strong cell walls in plants. The stronger cell walls provide a protective barrier to piercing-sucking insects and invading fungi.
How it works
Pro-TeKt reduces disease and insect problems, increases stem strength and leaf positioning, improves photosynthesis, increases heat and drought tolerance.
General usage
General garden and indoor use.
Directions for use
Spray it on plant foliage or drench it into the root zone.
Pro-Tekt Silicon Solution