Pro-Holly 4-6-4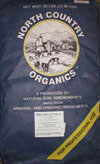 Description
A natural fertilizer blended from mineral and organic ingredients specifically made for acid-loving (ericaceous) plants.
How it works
Acid plants don't really love acid, but they need certain nutrients that become more available in soils with a lower pH level (acid soil). These nutrients include iron, manganese, and sulfur.
General usage
Use with azaleas, blueberries, chrysanthemums, ferns, gardenias, rhododendrons, heaths, heathers, huckleberries, hydrangeas, marigolds, mountain laurels, oak trees, pachysandras, lupine, raspberries, yews, flax.
Directions for use
Apply 1 pound per two feet of crown diameter spread under the drip line of the plant in the fall and again in the spring.