No Deer Zone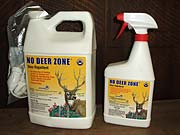 Description
No Deer Zone is Ready-to-Use and designed to reduce the feeding by deer on conifers and deciduous, non-bearing trees, shrubs, flowers, and other ornamental plants.
General usage
Apply to dry plants only. Hold spray tip 1-2 feet from plants, wet thoroughly with spray.
Directions for use
Shake Well before use. Use when ambient temperature is between 40 and 90 degrees F.
Advisories
NOTE: Not all products on this page are registered for sale in all states. Please contact us to verify if a product is available for sale to your state. Staining may occur on stone, concrete, or siding.
Application rates
No Deer Zone is Ready To Use and should not be diluted.