Hasta La Vista Ant!!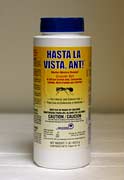 Description
Hasta La Vista Ant! is a ready to use weather & moisture resistant granular bait. It kills and controls ants, cockroaches, crickets, mole crickets, and silverfish. For interior & exterior use.
Advisories
NOTE: Not all products on this page are registered for sale in all states. Please contact us to verify if a product is available for sale to your state.