Shake-Away Powdered Deer Repellent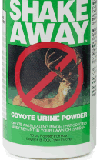 Description
100% organic coyote urine powder. Repels deer, raccoons and other large animals.
How it works
Coyote urine odors have been used by hunters, photographers, and the like for many years to help direct rodents to or from food sources. Coyote urine powder creates a misleading image that coyotes are present on your property. This false sense of predators close at hand is a danger signal to large animals, such as deer and raccoons and will keep many of them away from your gardens.
General usage
Lawns, gardens, orchards.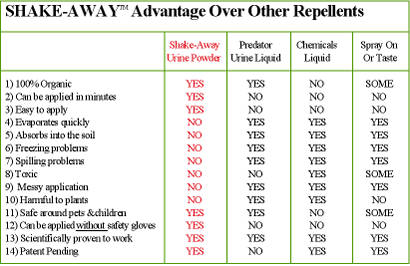 Directions for use
Sprinkle SHAKE-AWAYTM Coyote Urine Powder along the perimeter of your lawn, bushes, trees, gardens, or flowerbeds. Reapply twice a week or after it rains or snows. Store in a cool dry area. Shake well before each use.
Shake-Away Powdered Deer Repellent