No-Goose Zone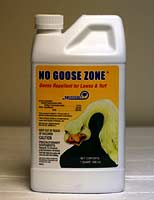 Description
Goose repellent for turf and lawns.
Directions for use
Spray evenly on area to be protected to provide thorough coverage and allow material to dry. Repeat application in 4 days or as warranted by Canadian Goose activity. Do not mow treated area for several days after application.
Advisories
NOTE: Not all products on this page are registered for sale in all states. Please contact us to verify if a product is available for sale to your state. Do not mow treated area for sevceral days after application.