Neptune's Harvest Humate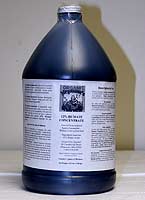 Description
Liquid Humate concentrate contains vital elements for healthy soil in an easy to apply liquid form. It provides a wealth of valuable plant elements, holds water in soil, feeds the living organisms in the soil, and releases locked-up nutrients for plant growth.
Application rates
Mix 1/8 tsp per gallon of water for foliar feed, 1TBSP per gallon for soil applications.