Japanese Beetle Killer Ready-To-Use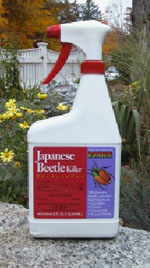 Description
A selective natural insecticide that controls japanese beetles on vegetables, flowers, ornamentals, trees, and shrubs. Makes a useful addition to your program for controlling white grubs in lawns (including hand-picking, beneficial nematodes, and milky spore).
General usage
May be used indoors and outdoors throughout the season. May be applied to fruit and vegetables on day of harvest.
Directions for use
Comes in easy-to-apply spray bottle. See manufacturer's instructions.
Advisories
Even organic and natural products can be harmful if used incorrectly. For more information about the toxicology of any product, see the excellent Extoxnet database.
Application rates
Rates vary; consult manufacturer's instructions.
Japanese Beetle Killer Ready-To-Use