Hydrate Lime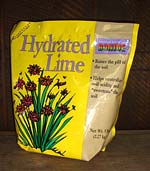 Description
Hydrated Lime raises the pH of the soil. Helps "sweetens" the soil and neutralize soil acidity. Use a soil test to determinie how much you needed to raise the pH of your soil to the optimum level of 6.5 for most gardens. Can be applied anytime during the growing season.
General usage
Can be applied anytime during growing season.
Directions for use
A soil test is the best way to determine your garden's need for Hydrated Lime
Application rates
Generally, 3.5lbs per 70sq ft will raise the pH 1 point on the pH scale.