Grub-R w/Clover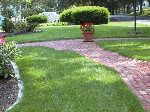 Description
GRUB-R is designed for sandy or drought prone areas with a history of grub damage or heavy use areas requiring significant wear tolerance. GRUB-R mix contains high levels of tall fescue, which has shown significant species related natural resistance to grub damage. Additionally, tall fescue is very heat and drought tolerant. GRUB-R maintains its green color after drought has paled other cool season grasses, and produces very strong, wear resistant roots. Comes with or without clover, depending on your needs.
Grub-R Mix contains:
80% Mustang II Tall Fescue
13.25% Cutter Perennial Ryegrass
6.5% Spartan Hard Fescue
0.25% White Clover (optional).
General usage
Can be planted North of Atlanta, Georgia to Southern Maine, New Hampshire and Vermont.
Directions for use
Best time to sow: April 1 - June 15 or August 1 - October 1.
Advisories
Note: Tall fescue does not establish well during cooler periods of the seeding season.
Application rates
Apply at a rate of 8-10lbs per 1,000 square feet.