Garden Dust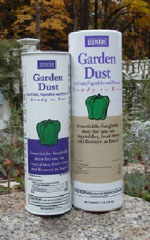 Description
This insecticide-fungicide controls a large variety of common garden pests and diseases. Controlled insects include: aphids, leafhoppers, exposed thrips, cherry fruit flies, red-necked borers, japanese beetles, mites, and rose chafers. Controlled diseases include: mildew, brown rot, scab, botrytis, anthracnose, stem canker, leaf spot.
How it works
Contains pyrethrins, rotenone, sulphur, and copper. The mixture repels many insects and controls common diseases.
General usage
Use on fruits, vegetables, and flowers.
Directions for use
Apply as a dust or spray. Shake can to fluff powder. Press sides of can with fingers rapidly for dust effect. Cover both tops and undersides of leaves with thin uniform film of dust or spray.
Advisories
For home garden use only.
Application rates
See manufacturer's recommended instructions for details.