Colorado Potato Beetle Beater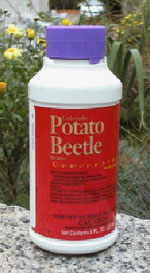 Description
A natural insecticide to control colorado potato beetle on potatoes, eggplant, tomatoes, and elm leaf beetle on shade trees and ornamentals.
How it works
The active ingredient is the bacteria, Bacillus thuringiensis (San Diego variety). The targeted insects ingest the bacteria, which then infects and kills them.
General usage
Use on potato, tomato, and eggplant crops in the vegetable garden. Use on shade trees and ornamentals to control elm leaf beetle.
Directions for use
Two early applications are recommended to provide adequate coverage. Follow manufacturer's instructions.
Application rates
Rates vary; see manufacturer's instructions.
Colorado Potato Beetle Beater